In the lead up to Earth Hour, on 27 March 2021, we put the spotlight on the UAE's Agents of Change – real people who are taking action to address climate change and nature loss.

As we go beyond the hour, we shine the spotlight on yet another inspiring UAE Agent of Change.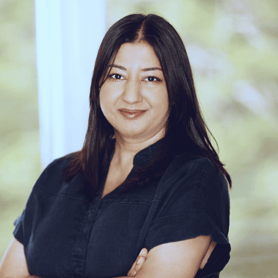 We spoke to Rukhsana over Zoom about society's dependency on plastic, how she provides alternatives to single-use plastic bottles and the movement to help people get #OffTheBottle.
Emirates Nature-WWF: What inspired you to create Liquid of Life?
Rukhsana Kausar: I grew up in a city where we could access drinking water from the tap.
"When I came to the UAE and saw the dependency on plastic water bottles, I thought there must be a better way of doing things."
I found that a simple solution of using filter systems would provide people with an alternative source of drinking water. It would also help combat issues surrounding plastic pollution and ultimately climate change as well. That's how Liquid of Life started.
In the beginning, we provided drinking water solutions to businesses because that's where we could have the greatest impact. Think of an office space, that's 30-40 people consuming a lot of single-use plastic bottles.

"People started to realise they could have filtered water in the office, so why not at home as well."
From there, the business grew to provide residential solutions.
Emirates Nature-WWF: Has it been a challenging to promote sustainable habits?
Rukhsana: 12 years ago, I was one of the only people saying you can drink water from the tap, we can filter it. It was really difficult in the early years because you're changing hearts and minds.
Since then, so many people have been working to raise awareness and drive change. Now, consumers have more choice than ever in the market.
We've grown at Liquid of Life too.
"We've pushed ourselves to tackle plastic pollution at the root. For the past year, we have been recycling our plastic filters. This creates a circular economy which keeps plastic waste out of landfills, land and oceans."
Emirates Nature-WWF: You are also a part of our Open for Tomorrow initiative.
Rukhsana: As a business, Liquid of Life has always put planet first.
Open for Tomorrow is an opportunity for us to connect with our customers and encourage people to make the switch to Liquid of Life, as a percentage of the proceeds from the sale of our residential solutions goes towards Emirates Nature-WWF's conservation efforts.
Emirates Nature-WWF: Tell us about the new initiative you're currently working on, and what you hope to achieve with Off the Bottle?
Rukhsana: Off the Bottle is a global movement that tackles plastic pollution.
There's lot of plastic waste that's already out there. This needs to be cleaned up because it has – and will continue to have – such a detrimental effect on nature.
"Plastic doesn't belong in nature. We need to keep as much of it out of our oceans and land as possible."
Off the Bottle will also look at the solutions that are already available and start implementing these. Different things will resonate with different people levels. In some places, it's fine to drink tap water. So, the idea there is to make sure people are using reusable bottles.
"We also want to improve infrastructure. It might not be possible for everyone to get off the bottle. We need to look at those issues and tackle them."
A fourth aspect is to accelerate change. One way of doing this is by developing a global network – an ecosystem – of solution providers, small businesses and entrepreneurs. Off the Bottle offers a platform to highlight what they do, connect them with others and hopefully help their business grow and create new jobs in this industry.
There are a lot of aspects to it. We'll see how it develops after launch and how people and businesses drive it forward.
Emirates Nature-WWF: What message do you have for our larger community this Earth Hour?
Rukhsana: Earth Hour is a moment to consider how we live, work and behave, and to look at ways we can all work together to accelerate the changes that are needed to combat the effects of climate change.
"The issues can be complex and overwhelming, but the things we can do in order to better care for our planet don't need to be."
Many solutions are already available to us, we need to have the will to change and adopt more sustainable habits.
Emirates Nature-WWF: What would you say to small businesses and entrepreneurs who offer sustainable living products?
Rukhsana: It's always difficult to change behaviours, hearts and minds.
"Don't give up. It can be hard. It can be lonely. At the same time, it's one of the most rewarding things that you can do."
You're doing it because you believe in it. That's what's going to drive you forward. Look for people and the right sort of partners to help.
Off the Bottle is coming soon. Follow Rukhsana at @liquidoflifedxb for more.
For more Agent of Change stories, visit EarthHour.ae or follow us on Instagram @EWS_WWF