Emirati Ahlam Bolooki speaks up for nature as co-founder of Mangroves 4 Mankind and through her full time job as Director of the Emirates LitFest.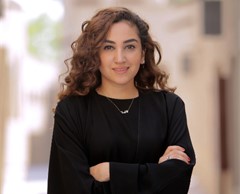 As we approach Earth Hour, on 27 March 2021, we shine the spotlight on the UAE's Agents of Change – real people who are taking action to address climate change and nature loss.
We spoke to Ahlam over Zoom about her vision for Mangroves 4 Mankind, how the LitFest is becoming 'greener' every year, and how we all can make a difference.
Emirates Nature-WWF: Tell us about Mangroves 4 Mankind and how it speaks up for nature.
Ahlam Bolooki: Mangroves 4 Mankind is an initiative that Sheikha Shamma Bint Sultan Bin Khalifa Al Nahyan and I founded in early 2020 to conserve and restore mangroves here in the UAE and across the world.
We raise awareness about the incredible benefits of mangroves for our planet through diverse projects and invite our local community to support the cause. Through our community forum, we connect thought leaders from around the world to share knowledge around mangroves and support projects that need urgent attention. We work with lots of volunteers who help shape our initiative with their expertise and ideas.
"when we come together as a community, the strength that we have is that much more."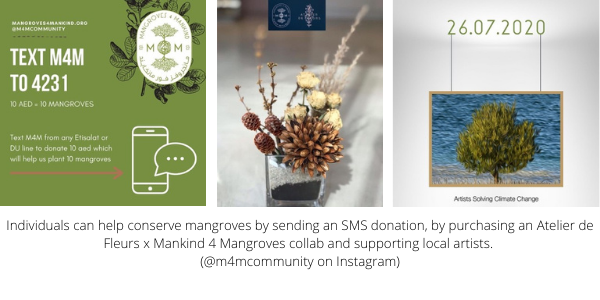 Emirates Nature-WWF: What inspired you to focus on mangroves?
Ahlam: The Amazon fires inspired us to do something. We wanted to focus on a habitat that we have local access to, so that we could engage our community around it. That's how we decided on mangroves. Mature mangroves have incredibly high sequestration rates, much more than forests on land. But they are being taken down because they exist on prime real estate, on coastlines around the world. That's why it's so important to preserve mangroves now.
"we can no longer leave it to scientists and environmental experts to make our problems go away. Every single one of us has to do what we can to make it go away."
Emirates Nature-WWF: What do you hope to achieve?
Ahlam: We want to protect mangroves, share global solutions and contribute to making change come faster. Our ultimate goal is to move society to become more environmentally responsible, as part of their daily lives.
"everything we do in the UAE is accelerated in speed by 10 times. We know we have a unique privilege to make a big difference and do it quickly"
Emirates Nature-WWF: Are you seeing more people speak up for nature?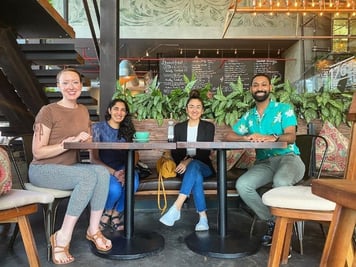 Ahlam: Our volunteers are a big testament to how positively people are reacting. Every time we speak at an event, we get an incredible volunteer to join the team. Every time we get covered in the press, people write in to offer their skillsets. Everyone has been so collaborative and supportive.
"last year, we had a 7 year old girl donate AED 200 from her 'little business' to help plant 200 mangroves."
She had raised the money by making bracelets at home and selling them at school. These mangroves will mature in 10-15 years and that's going to benefit her when she's older. Meet Latifa :
Emirates Nature-WWF: Sounds like you've had a remarkable first year!
Ahlam: Our proudest moment has been the selection of Mangroves 4 Mankind for an exhibition called Dreamers that will be featured in the UAE pavilion at Expo. It will be a visual exhibition, featuring the Mankind 4 Mangrove team out in the mangroves, picking up litter on our first anniversary.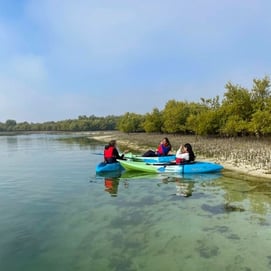 Millions of people will see the video over 6 months. To raise that kind of awareness after only one year, that's a huge achievement for us!
Emirates Nature-WWF: You also speak up for nature in your role as Director of the Lit Fest. Tell us about your work.
Ahlam: Over the years, the Emirates Airlines Literature Festival has become much more environmentally friendly. From featuring environmental authors, to going plastic free, offering water filters and vegan options and so on. This year, we decided to have zero printed programs.
At first, it wasn't well received. People missed the experience of having a printed program. But we did just fine – our sessions were packed. Now, we're never going to do printed programs again.
"changes sometimes feel drastic. But we found that when it's their only option, people adapt."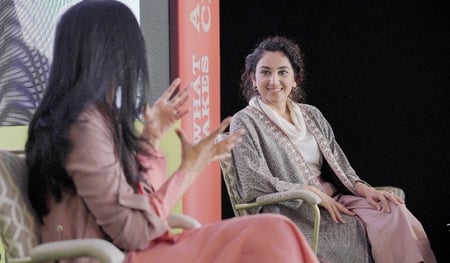 Emirates Nature-WWF: What message do you have for our larger community this Earth Hour?
Ahlam: The pandemic has shown how much can be taken from us. What if we can't travel or if there is a scarcity of water? These are all realistic issues now, not ideas from a sci-fi film.
"there's so much that can be done to address climate change. Educate yourself around all the touchpoints of your daily life, and start making changes."
Any step that you take is good. Trying to increase that year on year is amazing.
Learn more about Mangroves at https://mangroves4mankind.org/ and @M4Mcommunity on Instagram.
For more Agent of Change stories, visit EarthHour.ae or follow us on Instagram @EWS_WWF.