UAE resident Hilda Youssef speaks up for nature through her first book, Snowy and Zoey in a New World, which explores how the pandemic has impacted the natural world.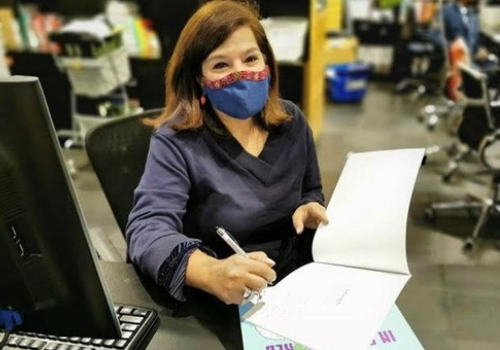 As we approach Earth Hour, on 27 March 2021, we shine the spotlight on the UAE's Agents of Change – real people who are taking action to address climate change and nature loss.
We spoke to Hilda over Zoom about her 'furry' inspiration and how the 'free time' she gained during last year's lockdown helped her write her book.
Emirates Nature-WWF: Tell us all about Snowy and Zoey in a New World, and how the children's book helps Speak Up for Nature.
Hilda Youssef: The narrative around the pandemic has been so overwhelming and negative, I wanted to explore a different view point, especially for young readers. In the book, animals thrive when humans are in lockdown, because nature got a chance to breathe, and the earth got cleaner.
"I wrote the book through the eyes of two animal characters. Snowy and Zoey go on an adventure and ask their animal friends "do you know how Corona has changed the world?"
Chloe the duck who is in the water says "There's no garbage, no pollution in the water. It's the first time I'm swimming in clean water." Then eagle Joey comes by, and the story goes on.
Emirates Nature-WWF: What inspired you to write this story?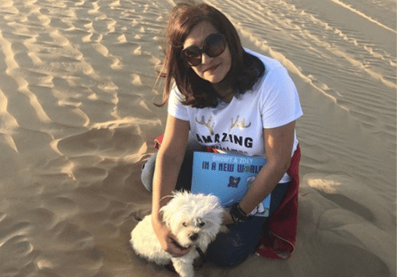 Hilda: My dog Snowy. During the lockdown of early 2020, Snowy and I were sitting in our garden and suddenly noticed these birds that we've never seen before. There were a lot of ducks on the community lake, and it was very peaceful and quiet.
We had been complaining that we can't go anywhere or see anyone. And here, for a short time, Snowy and her animal friends are probably a lot happier because we are not abusing the earth.
"Life was so busy pre-COVID. We were too rushed to think about the big picture. The lockdown gave me time to sit down and think."
I wanted to share this larger picture with young readers, in a way that is relatable. That's why I chose animals that we actually see in our day to day world.
Emirates Nature-WWF: We love the idea of talking to young children about nature. What age group is the book meant for, and how has it been received by young readers?
Hilda: My 10 year old likes to say the book works for all ages. It's good for her because it gives her insight and teaches her new words, like pollution. It works for the little ones because the pictures are so vibrant, and they tell a story.
On the virtual 'Meet the Author' calls, I like to introduce my dog Snowy to get the kids interested. They love it, they think Snowy is adorable.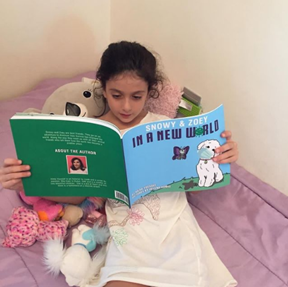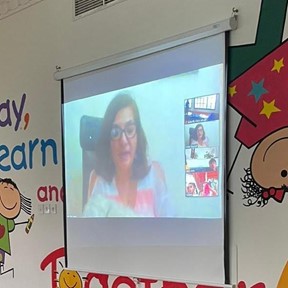 "The response has been very positive, it's helped kids get more interested in the environment and made them think about things they hadn't before."
Emirates Nature-WWF: What challenges did you face along your journey?
Hilda: I've been learning the whole time. I started the book in April and sent it to the illustrator who is a dear friend's daughter. She had just finished university and was home during the lockdown. The book was published by October. I was excited to have it available everywhere and so I sent it out to additional publishers, but they take 6 to 8 months just to get back.
"I didn't have enough time to go through traditional distribution, because the book is relevant now. So, I went down the self-publishing path and it worked very well."
The book was Number 1 on the local Amazon bestseller list in the first 36 hours!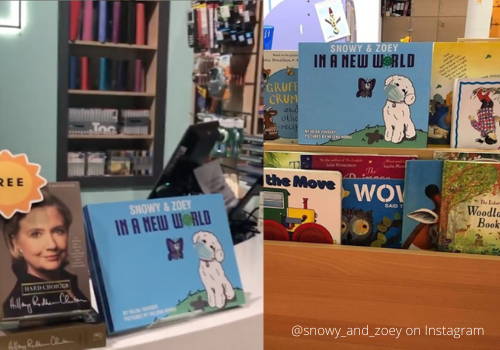 Emirates Nature-WWF: That's fantastic to hear! What do you hope to achieve through the book?
Hilda:
"I hope the book helps kids realise that the earth needs us to keep it clean and do our little bit. We all need to do our little bit to make sure that the earth is happy."
Emirates Nature-WWF: What message do you have for our larger community this Earth Hour?
Hilda: Nature is everything, we are here because of it.
"Do your bit, any little bit. Do one little thing a day in your household and remind your little ones. They will grow up to be the leaders, the governments, the parents of the future. So, remind them today."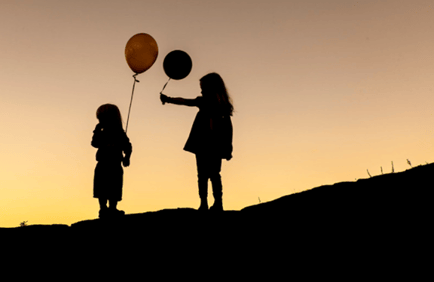 Introduce your kids to nature through Snowy & Zoey, on Instagram
@snowy_and_zoey
and available at amazon.ae, Magrudy's and Kinokuniya.
For more Agent of Change stories, subscribe to our blog or follow us on Instagram
@EWS_WWF